SCAFFOLDING : 
As a professional scaffolding service provider, we offer a range of solutions to support construction, maintenance, and modification projects. Our scaffolding is flexible and adaptable, with a variety of board sizes and lengths available to meet the specific needs of each project. We have a proven track record of serving clients in the oil and gas industry and other sectors, and are committed to meeting the unique requirements of each of our customers. Contact us to learn more about how our scaffolding services can support your project.
INSULATION : 
Thermal insulation is a critical component of energy efficiency in a wide range of industries and applications. By reducing heat loss or gain, insulation helps to improve the thermal efficiency of buildings and equipment. Our insulation services cover a range of materials and techniques, and are often paired with scaffolding services to provide safe and effective installation. Contact us to learn more about how our insulation services can improve the energy efficiency of your facility.
PAINTING : 
Aside from appearance and colour labelling for identification purposes, industrial paint plays a significant role in Corrosion Prevention. Due to industrial complexity, everyday surface wear and exposure to physical and chemical agents are higher than normal residential. Selecting the appropriate industrial paint and coatings is crucial for achieving the best quality, resistance, and durability. Thus, painting or re-painting activities are undergone, extending equipment service life over time.
HVAC : 
Heating, Ventilation and Air Conditioning (HVAC) revolves around applying various technologies and techniques that aim to ensure human comfort and production of acceptable Air quality through means of controlled Temperature, Humidity and Filtration of Air in an enclosed space. Our (HVAC) service has proven its credibility through completed projects where we are involved actively across upstream and downstream operations operation. Such as Petronas' offshore platforms and the regional (Sarawak) Petronas MESRA Gas Station. In this context, we provide our services to residential and commercial buildings.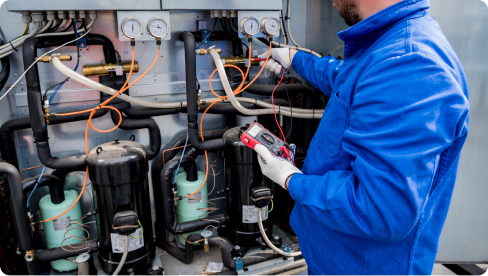 Our company specializes in providing professional electrical services to both residential and commercial clients. Our services include installations, repairs, and maintenance of electrical systems and components, as well as design and planning for new construction projects. We are dedicated to delivering high-quality workmanship and excellent customer service.
We offer a wide range of professional services to meet the needs of our clients. Whether you are looking for support with a specific project or are in need of ongoing assistance, we have the skills and expertise to help. For more information about how we can support your business, please don't hesitate to contact us.